An Anarchist FAQ: The Book!
The long-awaited print version of An Anarchist FAQ is back from the printer! Well, at least Volume One is. In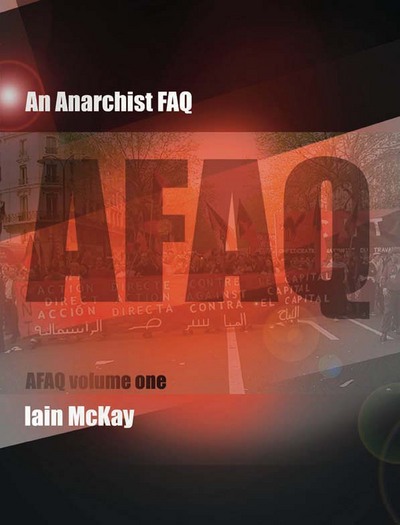 an over-sized format, and clocking in at 557 pages, this exhaustive compendium seeks to provide answers for the curious and critical about anarchist theory, history, and practice. More a reference volume than a primer, An Anarchist FAQ eschews curt answers and engages readers with questions in a thorough, matter-of-fact style.
The FAQ began in 1995 when a group of anarchists decided to write a criticism of the idea that "anarcho-capitalism" (an oxymoron if ever there was one) was a form of anarchism. Over the next decade or so, the project evolved—in an ever expanding online format—into an informative history and analysis of the entirety of anarchism itself.

According to editor Iain McKay, An Anarchist FAQ has two main aims: "1) To present the case for anarchism, to convince people they should become anarchists; and 2) To be a resource for existing anarchists, to use to bolster their activism and activities by presenting facts and arguments to allow them to defend anarchism against those opposed to it (Marxists, capitalists, etc.)." It's nearly exhaustive coverage will also make it valuable to researchers and those simply interested in learning more about anarchism.
Here's a quick look at Volume One's table of contents:
Section A: What is Anarchism?
An overview of what anarchism stands for, where it comes from, and what anarchists have done.

Section B: Why are anarchists against the current system?
Why anarchists are against hierarchy, capitalism, and the state. What they are and how they affect liberty. On the negative nature and impact of social hierarchies and economic classes.
Section C: What are the myths of capitalist economics?
Why capitalist economics is an ideology, not a science. Why anarchists think capitalism is exploitatiove. Exposes the extremely negative effects of trying to run a socisty along the lines recommended in economics textbooks.

Section D: How does statism and capitalism affect society?
How economics and politics cannot be separated and an outline of the impact of each on the other. It indicates how wealth influences society and discusses the media, imperialism, nationalism, state intervention, and technology.
Section E: What do anarchists think about ecological problems?
An overview of the roots of the ecological crisis and why anarchists reject many commonly proposed solutions as inadequate (when they do not make things worse).

Section F: Is "anarcho"-capitalism a form of anarchism?
No, it is not. If you know about anarchism and its history, you will already know why.
Appendix: The Symbols of Anarchy
This explains why anarchists carry Black and Black & Red flags, and use the circled-A. What they mean and where they originate from.
Also, if you happen to be in the Glasgow area in early December, be sure to stop by the book's launch party:
An Anarchist FAQ launch
4.00 – 5.30pm
SATURDAY 6th DECEMBER 2008
STUC centre
333 Woodlands Road
Glasgow
G3 6NG
(near Kelvinbridge U)
FUN, FOOD, FILMS + BOOKS from noon to 8.00pm