AK Press: Coming Soon to an Event Near You?
The AK Press collective is pleased to announce our spring tabling schedule. We hope to see you all at some of these events—and please let us know if you are organizing (or attending) an event that we should be tabling at but that is missing from this list!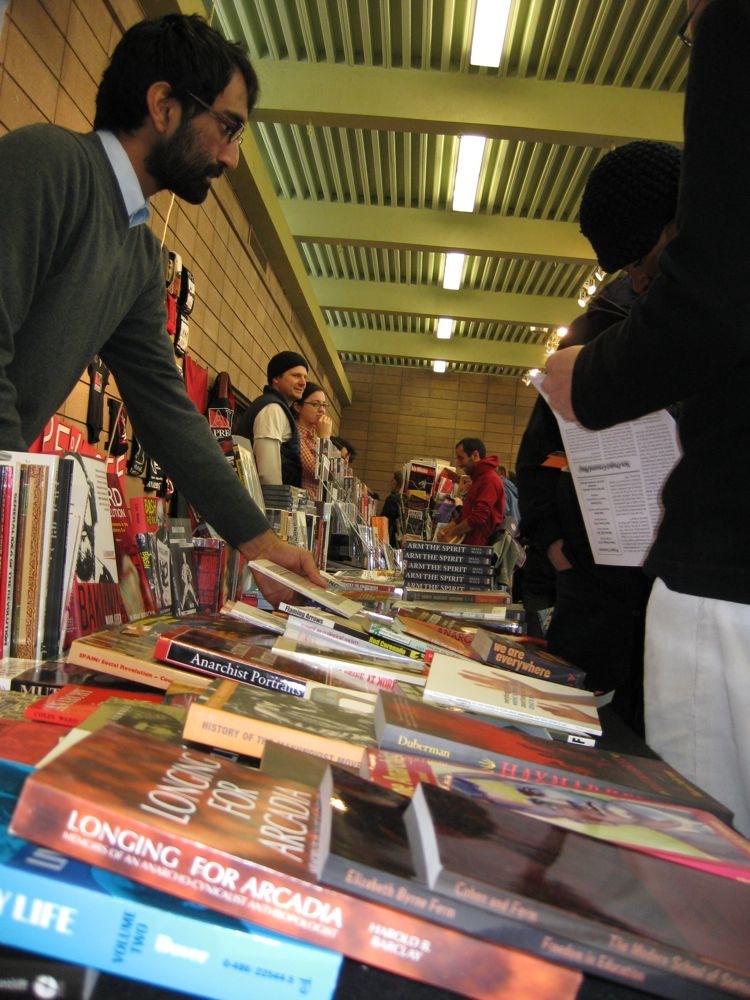 March 27-29 in Baltimore
The City From Below
In cities everywhere, new social movements are coming into being, hidden histories and herstories are being uncovered, and unanticipated futures are being imagined and built. This conference is a space to gather and share our stories, our ideas and analysis, a space to come together and rethink the city from below.
http://cityfrombelow.org/
April 11 in New York
NYC Anarchist Bookfair
A one-day exposition of books, zines, pamphlets, art, film/video, and other cultural and very political productions of the anarchist scene worldwide, along with two days of panels, presentations, workshops, and skillshares.
http://www.anarchistbookfair.net/
April 17-19 in New York
Left Forum
Left Forum brings together organizers and intellectuals from across the globe to share ideas for understanding and transforming the world.
http://www.leftforum.org/
April 24-26 in Chicago
Finding Our Roots
A yearly conference held in Chicago to to discuss anarchist theory and action. The theme of this year's conference is SPACE. Why and how is space important to anarchists, and so often central to our struggles?
http://mayfirst.wordpress.com/
April 25-26 in Los Angeles
LA Times Festival of Books
For one weekend in April, people who love books will gather with people who love to write, publish and sell books. The country's largest celebration of the written word.
http://www.latimes.com/extras/festivalofbooks/
May 16-17 in Montreal
Montreal Anarchist Bookfair
A gathering of over 100 booksellers, distributors and groups from all over Canada and beyond, sharing their publications with eager readers—plus workshops, films, and more. We go every year and always find it well worth the trip!
http://www.anarchistbookfair.ca/en/
May 26-30 in San Diego
National Conference on Race and Ethnicity (NCORE)
Designed to provide a significant forum for discussion, critical dialogue, and exchange of information, the NCORE conference is the most comprehensive national forum on issues of race and ethnicity in American higher education.
http://www.ncore.ou.edu/2009/index.html
* * *
Don't see anything near you on our list? Well then, in keeping with true DIY spirit, we strongly encourage YOU (yes, you!) to become part of our network of grassroots distribution and help us get our books into the hands of people at your local events, on your band's tours, or in your community. We can set you up with a wholesale account, give you advice, list your events on our website, and send you free catalogs and AK swag to pass out. Sound good? Shoot an e-mail to bookmobile@akpress.org.