REVIEW: Dynamite: The Story of Class Violence in America by Louis Adamic
We love it when people review AK Books! This review of our new edition of Louis Adamic's Dynamite: The Story of Class Violence in America first appeared in the Los Angeles Times on February 8, 2009. We repost it here with the generous permission of the author.
* * *
BOOK REVIEW: Dynamite: The Story of Class Violence in America by Louis Adamic
Louis Adamic is the forgotten Boswell of early Los Angeles,
perhaps the first writer to tune himself into the then-youthful city
and report back.
By Richard Rayner
February 8, 2009
Dynamite: The Story of Class Violence in America
Louis Adamic
Foreword by Jon Bekken
AK Press: 352 pp., $19.95 paper
Louis Adamic is the forgotten Boswell of early Los Angeles, perhaps the first writer to tune himself into the then-youthful city and report back. Born in Slovenia in either 1898 or 1899 (records differ), he passed through Ellis Island in 1913 and served in the U.S. Army during World War I before settling in San Pedro where, through most of the 1920s, he worked as a watchman in the office of the harbor pilot. Great ocean liners passed in front of his window, and at dusk, the wirele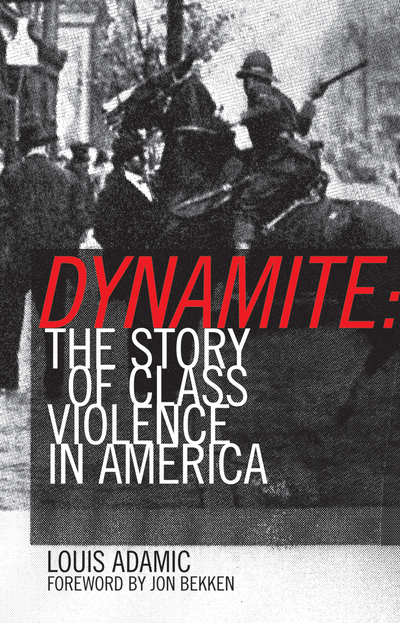 ss stations on battleships sent forth flashes of light.
It's a striking picture, evoked by Carey McWilliams, who noted that his friend Adamic was always more at home in San Pedro than in the "fleshpots of Los Angeles," then in the midst of a crazy, oil-driven boom. Yet it was Los Angeles that inspired Adamic. "He thrived on Los Angeles. He reveled in its freaks, fakirs, and frauds," McWilliams wrote.
Adamic became not only a historian and sociologist of the city, but its prophet too. It was he who first called it an "enormous village" and got at the soul of what he thought of as a bad place, "full of old dying people, and young people who were born old of tired pioneer parents, victims of America — full of curious wild and poisonous growths, decadent religions and cults and fake science, and wildcat business enterprises, which, with their aim for quick profits, are doomed to collapse and drag down multitudes of people."
Adamic gathered his impressions in Laughing in the Jungle, a memoir published in 1932. It was his second important book. The first, Dynamite, appeared the previous year and was revised in 1935. This latter version has just been reissued, with a foreword by labor historian Jon Bekken.

Dynamite–subtitled The Story of Class Violence in America–had a troubled route to publication. Adamic originally intended to tell the story of the 1910 bombing of the Los Angeles Times, an act of terrorism that killed more than 20 people. Two brothers, James and John McNamara, were found guilty, and Adamic saw in this drama a microcosm of the social and economic forces that in the early 20th century brought Los Angeles, and parts of the country at large, to the brink of socialism and revolution. He unearthed a great stack of material, reconstructed the saga detail by detail — and then failed to publish all his findings.
Libel was almost certainly an issue. In a still later book, "My America," Adamic wrote more fully about the role played by the aging muckraker Lincoln Steffens, who brokered the McNamara brothers' guilty plea. Essentially, Adamic thought that Steffens, who died in 1936, sold the McNamaras, and labor, down the river. He believed too that the swift collapse of the brothers' defense was tied to the land grab then being orchestrated by a group of Los Angeles capitalists, led by Harrison Gray Otis, the generalissimo of The Times.
All this was explosive, and Adamic never gathered all the strands of what he learned. Instead, while letting The Times bombing take central place in Dynamite, he reframed the book as an inquiry into violence in the American labor movement, beginning with the Molly Maguires and ending with the legalized murder of Sacco and Vanzetti.
Along the way, he addressed the Eugene Debs Pullman rebellion, the trial of Big Bill Haywood for murder in Idaho and the use of Pinkerton detectives against striking miners in Montana and West Virginia, writing openly of "class war" and concluding with a clarion call of high moral purpose.
"In fine," Adamic wrote, "the American working class will be violent until the workers become revolutionary in their minds and motives and organize their revolutionary spirit into force — into unions with revolutionary aims to power. Then they will be able to afford to dispense with such violence as has been described in this book."
Adamic thought and hoped that the climax of this struggle was still in the future. Yet reading Dynamite now, we see that, although he didn't realize it, he was describing how the class war was already lost. By showing a link between labor and anarchists, Otis and other big business leaders created the context in which socialism became a dirty word in America. A pattern of thought, of propaganda almost, was successfully imposed. Dynamite remains, therefore, salutary and instructive, posing a question that seems fundamental and relevant: How, if the haves behave ruthlessly and irresponsibly, can the have-nots fight back?
Adamic wrote here about an era when dynamite gave a desperate if comprehensible answer; he died in 1951, shot in the head in a blazing New Jersey farmhouse, at a time when he was being hounded by the House Committee on Un-American Activities. Whether he committed suicide or was murdered remains another mystery. "The more I see of America the less I think it is a land of laughs," he once said, and he died the victim of the same sort of unendurable political tensions that Dynamite evokes. He's a writer who demands our attention.
* * *
Rayner's "Paperback Writers" column appears monthly at latimes.com/books.