Diego Camacho / "Abel Paz," anarchist and historian: 1921-2009
Diego Camacho, best known as Abel Paz, died on Monday, April 13, 2009 in Barcelona. What follows is a translation of a note announcing the sad news by Manel Aisa, Diego's good friend and the pillar of the Ateneu Encyclopedic Popular Barcelona.
* * *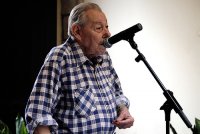 Diego Camacho / "Abel Paz" left us at 4:00 in the afternoon today, an eighty-seven year old anarchist who was born in Almería on August 12, 1921.
Diego witnessed many of the social struggles of the 20th century, including the eruption of the Spanish Revolution in Barcelona in 1936, during which he actively participated in the social changes of the times, creating the "Quixotes of the Ideal" group with his Libertarian Youth comrades from the Clot neighborhood.
When Spain's war was over, he became familiar with the concentration camps in southern France and, under the Nazis, toiled as a slave laborer near Bordeaux during the Second World War.
But his commitment to freedom in Spain led him to return secretly to the country in the early 1940s. He was detained by Franco's police and spent many years in Spanish prisons.
After completing his biography of Buenaventura Durruti, and autobiographical books documenting the many compelling moments of Spanish anarchism that he had experienced personally, he dedicated himself to disseminating his books through constant lectures in which he discussed the achievements of the Revolution.
He will be buried at 4:00pm on April 15 in Barcelona's Sancho de Avila morgue.
Hasta siempre compañero.
[Translation by Chuck Morse]