AK Press Winter Sale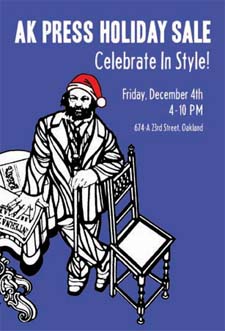 Whether you're local to the Bay Area or elsewhere in the blogosphere (yes, I just used the word "blogosphere"), you have good reason to be excited about AK's annual and ever-popular winter sale.
For those of you nearby, you are cordially invited to come by the AK Press Warehouse (674-A 23rd Street, Oakland) on Friday, December 4 from 4–10pm). It's a party the likes of which you won't find any other time of year (except for maybe the "Fuck the Fourth" sale in July—but I might venture to say the winter sale is just a little more epic). Everything in the warehouse is 25% off, and that means everything—books, DVDs, CDs, t-shirts, and any other goodies you might find on our shelves. Plus, we've got hundreds of books marked down to just $1–$5. I actually sorted through the sale books just this afternoon and it's not just the rejects, there's some really good stuff in there. While you're wandering around the warehouse and marveling at the selection, why not enjoy a cold one on us, and perhaps some vegan snacks lovingly prepared by your own friendly local anarchist publishing collective? If there's any doubt left in your mind, see how much fun these fine folks had last time.
Hell, you can even sign yourself or someone else up for Friends of AK Press right here where all the magic happens, and walk away with your very own stylish tote bag to carry all your sale books away in!
Even if you're too far away to enjoy the full experience of the warehouse sale, we've still got something for you so you won't feel left out: a weekend-long sale on our website. Order on Friday, Saturday, or Sunday (December 4–6) and your order will be discounted 25%. And although we can't send you snacks through the interweb, we can refer you to some cheap sale books and great package deals. So pop open your own beer (or soft drink) there at your computer—eek, not too close to your keyboard!—and join us for the party.