Holiday Switchblade
I don't celebrate Christmas anymore. I no longer give, and hardly receive, any gifts during the holidays. Frankly, I'm still somewhat confounded by the fact that so many self-proclaimed radicals, anarchists, leftists, anti-capitalists, etc. that I know fall so deeply into full participation with this consumer entrapment sham of a holiday year after year after year—but then, we all have our contradictions, don't we?
Say I did celebrate Christmas, though? My idea of the perfect gift is something that is actually useful and something that the recipient would never think of getting for themselves. If I were buying presents for the women in my life this year, I'd probably consider getting each of them The Rapex, an anti-rape device that is literally a condom with teeth. Maybe. Or maybe I'd just go the route of switchblade stocking-stuffers, because you never know when you're going to have to temporarily debilitate someone in order to give yourself time to escape to relative safety.
Beyond the holiday musings of an angry anti-statist Brown girl, I swear I am going somewhere with this…
I wanted to share with you this statement that I wrote, as part of a collaborative effort, in response to the slayings of two young queer people of color back in late November. Yes, I am aware that blogging about a news story that happened over a month ago can be considered dated when it comes to the blogosphere, but I am sharing it with you because of its cruel and bitter relevance to those frequent moments where hate-filled violence is inflicted upon marginalized bodies—and yes, I do take these moments personally, even when they do not occur against my particular body. A switch of names and a slight tweaking of details and this statement could've been used to address the recent murders of Mariah Qualls or Walter Tróchez or any of the many people who've fallen, and sadly will continue to fall, as a result of gendered and sexualized violence.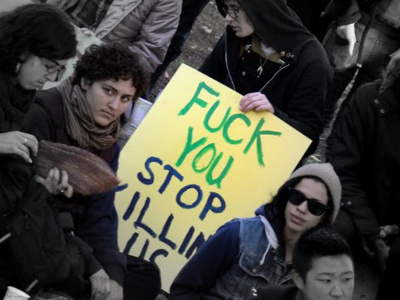 So while my personal considerations for being the Santa Claus that delivers switchblades and condoms with teeth for Christmas are made in jest, the sentiment behind these gifts is a conversation that all of us need to be taking seriously. For all my tough-as-nails mujeres and queer comrades, I want you to consider how to combat gendered and sexualized violence before it happens, in the moment, and after the fact, both as individuals and as community. And for those of you who would consider committing an act of violence toward one of our brothers and sisters, just know that the person you are attacking might stick you in the side before the fight is over, courtesy of the bearded woman in the red suit handing out switchblades.
********
All,
On Sunday, November 21, 2009, we stand together to mourn the loss of two young queer people of color, 19-year-old Jorge Steven Lopez-Mercado of Puerto Rico and 15-year-old Jason Mattison Jr. of Baltimore, who were violently taken from this earth within a few days of each other. Our collective heart goes out to the friends and family of these young people. Please know that we were deeply impacted upon hearing the news of these violent and tragic losses and that the reaction for many of us was that of having lost one of our own friends or family members.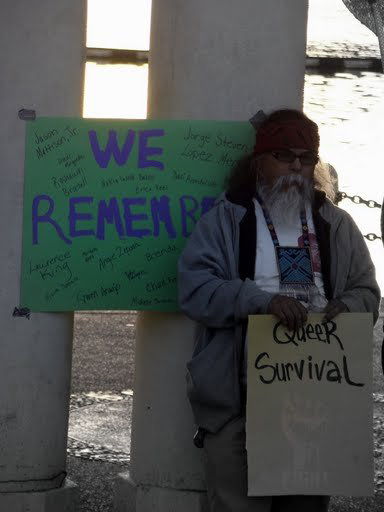 As a group of unaffiliated, but growing community of queer people of color and allies based out of Oakland, California, we are sadly all too familiar with the type of violence that was inflicted upon these two young bodies. We ourselves are also various combinations of queer and trans and poor and colored and young and many of the other things that singled out Jorge and Jason as vulnerable and dispensable targets. And because we dare not only to survive in this world as all of these things, but also to thrive as and accentuate these identities, we also become potential targets of this type of transphobic/homophobic violence.  So today, on this day, we stand together not only to mourn the loss of Jorge and Jason, but we also stand in solidarity with communities in Puerto Rico, Baltimore, and other parts of the world who are every day resisting the type of hateful violence that ripped away young Jorge and Jason from their loved ones. Although our hearts are heavy and our souls full of grief, our spirit is not broken and we must continue to move forward, as our ancestors and elders have done before us and as our young people and descendents will continue to do long after we are gone.
But what does moving forward look like from our vantage point? How exactly do we recover ourselves from this tragic loss to find healing, support, and understanding? How do we organize ourselves and take action to gather the sense that justice has been served? Moreover, we ask ourselves, what exactly does justice look like in this situation? We know that there are many of you who are seeking justice for these lost lives within the framework of the current criminal justice system and that, in Puerto Rico, you are working to have Jorge's murder prosecuted as a hate crime. But here in Oakland, a city that is everyday terrorized by an increasingly militarized police presence, particularly in low-income neighborhoods of color, we need to take a step back to look at the monster at hand and ask ourselves: does increased policing, legislation, and imprisonment feel like justice?
Yes, of course, we full-heartedly denounce the brutal acts committed against Jorge and Jason. There is no doubt in our minds that the perpetrators of this violence need to be dealt with in a way that will assure us that even the thought of committing a violence so gruesome never crosses their minds ever again. However, we also denounce the so-called criminal justice system, its racist, classist origins, and its continuing legacy of terrorizing communities and individuals who are already marginalized and exploited. We understand the criminal justice system and all of its tentacles as yet another tool of this racist, classist, transphobic, homophobic, misogynistic system of governance that we are currently forced to exist under.
And so we come back to the question, what does justice look like in this situation? Jorge and Jason are dead. They are never coming back, no matter how many prisons we build, no matter how many police patrol our streets, these young people are gone and we denied of their smiles, laughter, tears, and overall brilliance—and believe us, the pain of this realization is not lost on us, as we feel its heavy pull quite deeply.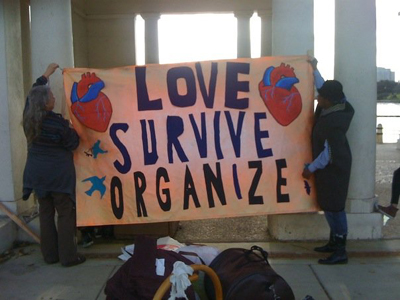 We come back to the question of justice not because we here in Oakland have devised some ultra sophisticated, fool-proof method for obtaining justice when violent crimes are committed against us, but because it is a question that we are also struggling to answer ourselves. One thing we do know for sure, we feel that we cannot, nor were we ever meant to, rely on the criminal justice system to keep us safe, especially given the reality that it is this same system that is invested in feeding the hateful attitudes that lead to the murders of Jorge and Jason in the first place.
Today, as we stand together in honor of Jorge and Jason and the countless others that we have lost due to homophobic, transphobic, and many other types of systemic violence, we want all of you who could not physically stand here with us to know that our pain runs deep and our anger runs rampant, and that because we wish to no longer be afflicted by the pain or anger that is caused when confronted with a violent loss, we are fully committed to seeking out models of justice that serve the purpose of community health and self-determination. We will not rely on police, judges, or prison cells to keep us safe, but rather we look toward each other, day in and day out, to find the strength, hope, and inspiration to continue moving forward together, across borders and distance.
In struggle and solidarity.