"Girls with Guns" Snack Pack!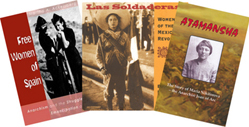 We said we'd put together an excellent new package deal for you every month. Sure, this one's a teensy little bit late. But it's so good that we think you'll forgive us. So now, with no further ado, we bring you (drum roll, please…) the "Girls with Guns" snack pack! This package deal brings together histories of the remarkable women who overcame the gender norms and discrimination that were stacked up against them and rose up to fight in the Spanish, Mexican, and Russian Revolutions. Buy them as a set and get all three books for $27.50—that's less than the price of two!
Titles included in the "Girls with Guns" snack pack are:
Free Women of Spain: Anarchism And The Struggle For The Emancipation Of Women
by Martha Ackelsberg (AK Press)
The Mujeres Libres mobilized over 20,000 women into an organized network during the Spanish Revolution, to strive for community, education, and equality for women and the emancipation of all. Free Women of Spain is a comprehensive study of the Mujeres Libres, intertwining interviews with the women themselves and analysis connecting them with modern feminist movements.
Las Soldaderas: Women of the Mexican Revolution
by Elena Poniatowska (Cinco Puntos Press)
The photographs and commentary in Las Soldaderas rescue the women of the Mexican Revolution from the dust and oblivion of history. These are the Adelitas and Valentinas celebrated in famous corridos mexicanos, but whose destiny was much more profound and tragic than the idealistic words of ballads. Without the soldaderas there is no Mexican Revolution.
Atamansha: The Story of Maria Nikiforova, the Anarchist Joan of Arc
by Malcolm Archibald (Black Cat Press)
The Ukrainian anarchist Maria Nikiforova (1885–1919) rose from the slums of industrial Alexandrovsk to become a ferocious terrorist and military commander who sacrificed everything for the cause of the Russian Revolution. Her exploits became the stuff of folklore, but she was "blacklisted" by official historians and her story was lost for generations. Now her story is finally available again!