"(De)constructing Counter-Power": Talk by Black Flame author, Michael Schmidt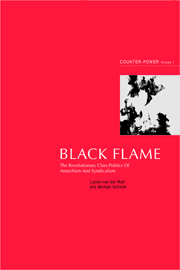 For your viewing pleasure:
Michael Schmidt, co-author of Black Flame: The Revolutionary Class Politics of Anarchism and Syndicalism, gave a great talk to an audience at McMaster University in Hamilton, Ontario in March 2010. The talk was presented by Common Cause and AK Press. It's in four parts, including a Q&A session.
Oh and, by the way, the book is 50% off for the rest of June!