Jack Heyman: La Lucha Continua
This post sent to us by our good friend and co-conspirator Devin Hoff ….
Jack Heyman is a modern day working class hero.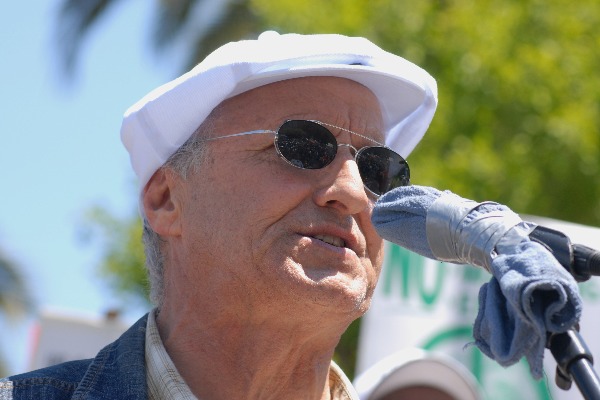 As a long time worker/member of the International Longshore and Warehouse Union—which represents maritime, dock, port and other workers along the West Coast, as well as in Hawaii and Alaska—he has consistently helped steer the industrial strength of his union towards righteous action time and again.  In 1984 he helped organize the first conscious refusals to load South African cargo ships, in order to help break the grip of Apartheid.  According to Nelson Mandela and others, this is one of the key events that eventually led to the fall of the white supremacist regime in that country.  Jack was also instrumental in organizing in a successful 1999 coast-wide work stoppage on behalf of Mumia Abu Jamal and authored union Convention resolutions defending other Black political prisoners and Leonard Peltier in U.S. prisons.  He helped organize successful solidarity boycotts by San Francisco Bay Area dockworkers of the Neptune Jade, a ship loaded by scabs in England during a union busting campaign in Liverpool.  In 2008, he initiated the call for and organized a first-ever one-day shutdown of all ports on the West Coast to protest and demand an end to the U.S. imperialist occupations of Iraq and Afghanistan on May 1st, International Workers Day.  Most recently he helped organize a work-stoppage, shutting down all Bay Area ports to demand justice for murdered Black youth Oscar Grant, ahead of the sentencing of his murderer, killer cop Johannes Mehserle.
I have been honored to count Jack, as a friend and comrade for several years.  At times we have helped with events the other organized and supported each other when we could.  One of the first of these events was in 2001, when Jack gave a talk at a Mayday celebration a few of us organized at the AK Press Warehouse.  He spoke not only of the need for workers to defend their rights, but also of the responsibility of workers to use their industrial power to effect radical change and help others.  This is not just an idea, it is a principle that Jack and many of his fellow dockworkers consistently practice.
Of course, principle often has its consequences.  When police attacked a picket of anti-war activists at the Port of Oakland attempting to block loading of war materiel bound for Iraq in 2004, Jack was beaten by Oakland cops and arrested for the "crime" of trying to do his duty and warn dockworkers that police were opening fire.  The authorities threw the book at Jack, suspiciously over-reacting in a way that strongly suggested radical baiting. They of course over-stepped and missed, thankfully, not counting on quite how deeply the well-respected and loved militant union member rolls.
Jack will be retiring from the ILWU at the end of this year.  The San Francisco Labor Council has adopted a resolution honoring his efforts and achievements on behalf of working class people and against white supremacy, and other organizations and individuals around the world have and will continue to do so as well (http://www.labournet.net/world/1011/heyman1.html).  But I'd like to add my hope that it isn't just words we thank and honor Jack with, but action following his principled and courageous example.  For as much as Jack speaks against capitalist exploitation, racist oppression, imperialist intervention or advocates for international working class solidarity, it has been his actions as a worker and an organizer that have reverberated the loudest.
Happy retirement Jack! Enjoy! And thank you.
La Lucha Continua.
-Devin Hoff