Continued Turmoil in Greece: Occupied London on Al Jazeera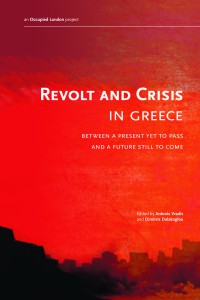 Members of the Occupied London collective, authors/editors of our new release Revolt and Crisis in Greece, wrote a great op-ed piece on the renewed turmoil in Greece and the creative strategies and responses of the protest movement that's just been posted up on Al Jazeera. Here's a snippit from the article by Hara Kouki and Antonis Vradis:
Grassroots politics flourish in Greek turmoil

As politicians become embroiled in massively unpopular "austerity measures", protesters find creative avenues of change.

[…]


On June 15, in the immediate aftermath of the violent General Strike demonstration, and following days of negotiations with his parliamentary opposition, Prime Minister Papandreou threw in the towel by announcing a government reshuffle. Snap elections and perhaps a swift round of short-lived governments are now likely; the prime ministerial seat has become unenviable, if not near-untenable.

For the people gathered in Syntagma, the intense political manoeuvring in the corridors of parliament seems to matter little. Theirs is a mass mobilisation that draws a distinction between representational and grassroots politics. Political parties seem unlikely to come to a halt over developments in the upper echelons of power. For them, the Memorandum is not just a sum of persons or abhorrent policies, but a system of power that has misruled the country for 30 years, bringing it to the edge of collapse. It is a system of beliefs, values, expectations and political roles and identities that cannot be abolished simply by replacing the head or members of the government.

The people in the squares have started, again, to believe that they have the freedom and the responsibility to act; they are urging radical change through the creation of different personal and social relations.

By now, the distance between the people and their representatives might seem unbridgeable; as the old system of government crumbles under the burden of sovereign debt, a new, grassroots system of politics is starting to make itself heard from the ground.
Be sure to head over to Al Jazeera to read the whole thing. Hopefully we'll see more commentary from the Occupied London collective in the international news in the coming days.
And, be sure to check out Revolt and Crisis; it's 25% off on the AK Press site for a few more weeks, and well worth the money. Really a great analysis and background on the current situation in Greece and how things came about; with more and more pundits claiming that the US economy is going the same way as Greece (and an equal amount of doubt as to the validity of those claims), folks should definitely check this book out … !