Friends of the Imagination, UNITE!
A new call to action from our surrealist comrades in Chicago and elsewhere. Please circulate widely!
---
Friends of the Imagination, Unite!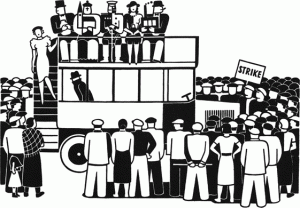 The Chicago Surrealist Group and friends of the imagination everywhere stand in solidarity with the Teamster Local 814 art handlers locked out by Sotheby's. In Sotheby's last auction, the obscenely high prices paid for the work of surrealist artists—among others—were celebrated by the fawning press to show that all was well in the land of dollars.
Surrealism has always been an insurgent movement identified with freedom and with the emancipation of labor everywhere. The anti-worker campaigns of Sotheby's, an auction house enjoying record sales, are of a piece with the contempt for freedom, dreams, and poetry that drives the commoditized art world. Making beauty an object of speculation, herding the ostentatious rich across picket lines to produce record sales in the hardest of times, Sotheby's uses the terror of unemployment and the forces of law and order to bully workers.
We are not surprised by such thuggery. The relentless illogic of miserabilism makes Sotheby's care not at all for the imagination, the labor, or even the paintings on which its profits rest. Nor are we impressed. The shows of force by the employer, and the laughable complacency of art/business reporting, represent nothing like the wave of the future.
In applauding the courageous actions of the Sotheby workers, and the ties of their struggles to Occupy Wall Street, we surrealists recognize that the triumphalist crowing of Sotheby's and its patrons hollows out on second listen, and sounds much more like a last gasp.
And why shouldn't it? Hanging out with millionaires and billionaires can't be good for you. Each day a little piece of imagination withers away, acts of kindness get "lost in the shuffle," acts of tyranny and cruelty come to the fore, until finally the equation is complete: Other people's suffering = a larger bank account. The choice between Sotheby's and the citizenry can be made a thousand times a day in every human action undertaken.
We fervently hope that the day is coming soon when Sotheby's, Goldman Sachs (and all of their ilk) are recognized as the major sources of our distress. The compass wielded by the Occupy Wall Street demonstrators is pointing the way.
The Surrealist Movement in the United States
www.surrealistmovement-usa.org
November 2011