"Yellow Kid" Weil Reviewed on BoingBoing!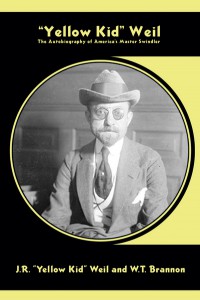 Much to our delight, we woke up this morning to an excellent BoingBoing review of the latest book in our popular Nabat series, "Yellow Kid" Weil: The Autobiography of America's Master Swindler!
Cory Doctorow describes the book:
"Weil's autobiography is really more of a memoir—it doesn't provide much of a coherent narrative of the man and his life. Rather, it is a series of unconnected—but hugely entertaining—anaecdotes about the various scams he ran and the venal fools he took for thousands and tens of thousands of dollars. Weil is a virtuoso exploiter of human foibles, and each story serves as a miniature morality play in which someone who thinks he's getting something for nothing (usually at some innocent's expense) instead loses everything as payback for his venality."
In conclusion, he says:
"This is one of the most entertaining memoirs I've ever read. Its episodic nature makes it a natural for quick reads—a more perfect toilet-tank book there never was—and the detailed descriptions of Depression-era cons are priceless, especially for anyone interested in gadgets and improvisation. The scam fortuneteller whose turban disguised a telephone clamped to his head, which was wired down his collar and trouser-leg to an electrical contact on the bottom of his shoe, which would be mated to a telephone circuit when the 'swami' reclined on an 'oriental lounger' to 'commune with the spirit world' is one of the best things I've ever read."
We are still laughing at the fact that Cory Doctorow called one of our titles a "perfect toilet-tank book." We hope you will agree. Read the whole review on BoingBoing, and then check out the book—or better yet, the whole Nabat series!