Check Out the New, Improved Big Idea Bookstore & Cafe in Pittsburgh!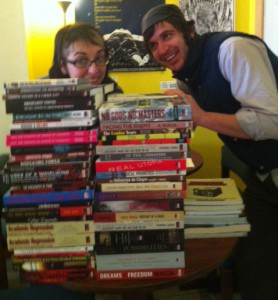 Earlier this week I had the pleasure of visiting with some of our comrades at The Big Idea in Pittsburgh. (For more on their project, see this store profile I did a couple years back). Right now they're in the midst of a very exciting expansion—those of you who have been in their old space might remember it being pretty cozy in there. Now they've moved around the corner onto Liberty Ave., where they have room to grow! They have big plans for the new space including opening up a cafe, having more in-store events, and a closer partnership with AK Press!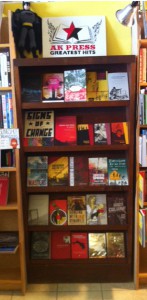 (Heads up, bookstores and infoshops: whether you're expanding or not, contact us if you're interested in partnering with us and getting your own AK Press display… Batman statue optional… we're here to help.)
If you find yourself in Pittsburgh, stop on by and browse the expanded selection of new and used books, check out AK's new releases and other titles recommended by the Big Idea collective, and soon you'll even be able to enjoy coffee and a snack!
And finally, those of you who value the work of The Big Idea and have a few bucks to spare: consider making a donation to help them out with the last stages of their expansion: buying some equipment they need to get the cafe off the ground. So far they're about 2/3 of the way there and need to raise the rest in the next 10 days. Every little bit helps!