The Accumulation of Freedom Hits the Road!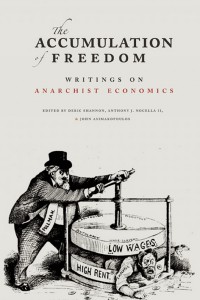 Heads up, folks: Deric Shannon, one of the editors of our recent release The Accumulation of Freedom, is doing a short speaking tour to discuss the book! If you're in one of these places, mark this on your calendar NOW!
At these events, Deric will give a presentation and lead a discussion on anarchist analyses of capitalism and propositions for a world free of oppression, domination, and the institutionalization of coercive social control. Do we have to accept living in a society divided between the wealthy few and the wanting many? Must people starve? Is the state eternal? Does the world need cops, prisons, bosses, and politicians? How do economic hierarchies intersect with things like racism, sexism, rigid gender roles, compulsory monogamy, and heteronormativity? Do we have to live like this? Are other worlds possible? What kinds of alternatives have anarchists put forward and how do we propose to get there? This event will be a great chance to learn more about (and discuss!) anarchism, economics, and the fight for accumulating freedom in a world currently organized for hierarchy, coercion, and control.
UPCOMING EVENTS:
Saturday, March 10 at 8pm: PITTSBURGH @ The Big Idea (4812 Liberty Ave)
Thursday, March 15 at 7pm: PHILADELPHIA @ The Wooden Shoe (704 South Street)
Saturday, March 17: NYC @ Left Forum (Pace University)
Session 1, 10:00am, W211: "Anarchist Descriptions and Analyses of Capitalism"
Session 3, 3:00pm, W625: "Anarchism's Post-Capitalist Vision"
Thursday, March 22 at 7pm: PROVIDENCE @ Libertalia (280 Broadway Room 200)
Friday, March 23 at 7pm:  BALTIMORE @ Red Emma's (800 St. Paul Street)
Sunday, April 1 at 12 noon: SAN FRANCISCO @ Bay Area Anarchist Bookfair (County Fair Building, Golden Gate Park)
Details forthcoming for events coming up in Boston, Rochester, Buffalo, and Sarasota: stay tuned for updates!