Farewell to our Friend and Comrade Joel Olson
We are very saddened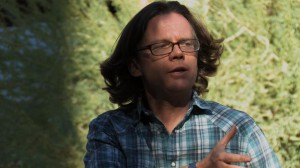 to hear about the sudden passing of our dear friend and comrade, Joel Olson. A part of the Love and Rage Federation, and a founding member of Bring the Ruckus, Joel was a source of strength and inspiration for so many in the anarchist and radical movement. He was the co-author of the well-loved Soy, Not Oi! vegan cookbook, and the author of The Abolition of White Democracy. Just weeks before his death, Joel sent us his article on left colorblindness and the racial dynamics of the Occupy movement, "Whiteness and the 99%," for inclusion in our forthcoming Occupy anthology.
Indeed, there are no words to express how truly influential his work was to the struggle for justice, equality and the freedom of all. He will live on in our memories as a fond friend and cherished comrade.
Our collective condolences go out to his family and friends. Rest in Power Joel.
For those not familiar with Joel's work, or even for those who are, we encourage you to read Charles's 2010 interview with Joel for this blog: Radically Democratic Extremism: An Interview with Joel Olson
For those in the Flagstaff area, The Repeal Coalition is hosting a march in his honor:
April 8th 2pm
Flagstaff City Hall Lawn
There will be a Memorial at Northern Arizona University:
Monday April 8th 1pm
Cline Auditorium
Flagstaff, AZ
Friends are encouraged to share their memories of Joel on Facebook: