A Quick Update on Fire Recovery Fundraising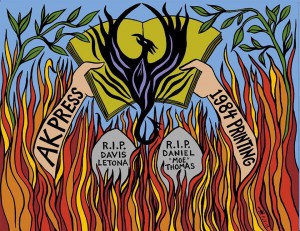 Thank you all so much for your support since our warehouse fire. We're making some progress but it's going to be a long road ahead for all of us, and we couldn't do it without all of you.
We are still fundraising to cover the costs of damaged stock, ongoing disruption to our business, and of course to help out our neighbors in the building who were also affected by the fire. To that end, we wanted to let you know that some very generous friends and comradely projects have organized a few great ways to help you help us in the coming weeks:
The fine folks at Gaiahost (an awesome worker co-op that hosts our website and e-mail) will be MATCHING the next $1,000 of donations through our online fundraiser! Contribute now and we'll get twice the $$.
There's a fundraiser party THIS FRIDAY at Brooklyn Commons, sponsored by an impressive lineup of fellow publishers and other radical orgs. There will be drinks, music, books, dancing, rallying, raffling, and rooftop garden chilling. If any of these things appeal to you, please attend and invite your friends. More details HERE.
There are more fundraisers coming up, too: two shows at 924 Gilman in Berkeley (5/9 and 5/17), and a happy hour at Red Emma's in Baltimore (5/21). Mark your calendar!
Again, we really can't thank you enough for all of your support thus far—whether you've donated to our online fundraiser, signed up as a Friend of AK, organized a benefit event, ordered a book, or just helped us spread the word. With your support, we hope to be back on our feet soon.