3/19: FIRE SALE at the AK Press Warehouse (Chico, CA)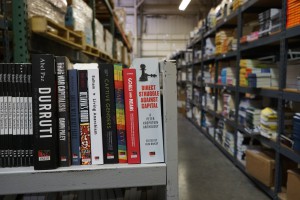 A year ago our warehouse in Oakland, CA caught fire. Like a phoenix, AK Press has risen here in Chico, CA. Over the last eight weeks we've been preparing our new space and it's time to show it off.
We'd like to invite you out to see the new space and find some great deals on books. We'll have books at fire sale prices.
WHEN: Saturday, March 19th
WHERE: 370 Ryan Ave #100 Chico, CA 95973 (head out Cohassett past the airport, take a left on Ryan Ave and we'll be on the right a couple blocks down)
WHAT TIME: 3:00 to 6:00pm
WHAT TO BRING?: We'll have refreshments on hand. We can take cash and credit cards for book sales
for more info contact info@akpress.org