Excerpt from LEFT OF THE LEFT: My Memories of Sam Dolgoff
We've sent one of our favorite recent manuscripts off to the printer! Anatole Dolgoff's memoir of growing up at the center of the twentieth-century anarchist movement. The book centers of Anatole's dad, Sam Dolgoff, and includes a cast of dozens well known, forgotten and never known. It was a real joy working with Anatole. His humor and critical insight shine through on every page of the book.
You can order a copy here (at 25% off for the next few weeks). In the meantime, here is a sample:
——-
An Interlude: I Take Sam to See Reds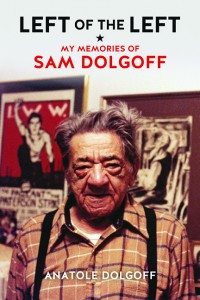 Road to Freedom had a nominal co-editor who seldom showed up, and never worked. His name was Hippolyte Havel. Sam did not know him "at the height of his career as a militant anarchist writer, editor, close friend of Emma Goldman, and well-known member of the Greenwich Village Bohemian community." When Sam knew him he was pretty much incapable of doing anything, was entirely supported by comrades and what he could cadge from gullible strangers passing through. Sam remembered him as "an ill tempered, abusive alcoholic, a paranoiac who regarded even the slightest difference of opinion as a personal affront. Nor could he carry on a discussion on any subject for more than a few minutes without constant interruptions, abruptly launching into a tirade on totally unrelated matters. It was most painful to witness the deterioration of a once vibrant personality."
Many years later, in the 1940s, Sam attended The Iceman Cometh, Eugene O'Neil's bitter commentary on lost illusions, cowardice, and betrayal. One of the characters spends the entire play sprawled across a table in Harry Hope's funereal bar, drunk; every now and then he rises to spout something vehemently incomprehensible before collapsing again. "That's Hippolyte Havel!" Sam exclaimed. There was no doubt!
Hippolyte Havel, flesh and blood human being, morphed into a character in an O'Neil play! That provides me the solution to a problem I have had. How to make accessible to people who were born after Sam died the breadth of his experience and the myriad people he knew so many years ago? Simple chronology—you know, first Sam did this, and then he said that—cannot convey to you the richness of Sam's lifetime journey in the anarchist movement, which he embarked upon when he joined Road to Freedom. But we do have the movies, and a special one at that.
Reds was the film I dragged Sam to so many years later, in 1982, for he disliked going to the movies. The film was finishing a fairly long run and the only theater showing it was at a Mall in Northern New Jersey. I had to drive him there. He insisted on paying for his own small paper cup of coca-cola in the lobby. "A buck fifty? Why you can't be serious man! Maybe you should wear a mask and gun?" Sam growled. The young fellow behind the counter, probably a suburban high school kid born into an entirely different world, caught the glint of humor in Sam's eyes and smiled indulgently. That was the last bit of indulgence he received as he proceeded to wreck the film for the sparse audience scattered throughout the dark cavernous space that mid-week afternoon.
Reds is a three-hour long, romanticized but fundamentally accurate depiction of the life and times of the brilliant American journalist John Reed (Warren Beatty). The man cut quite a figure. He rode with the Mexican bandit/revolutionary Pancho Villa. He was closely associated with the Wobblies and good friends with Big Bill Haywood. He was active in the rich New York radical/ bohemian scene, knew everybody, was in on everything. He witnessed the Russian Revolution first hand; his Ten Days That Shook the World remains a classic account of that momentous event. He became a committed Bolshevik and was instrumental in founding the American Communist Party. He died young of a terrible ill- ness, typhus, in Moscow where his remains were interred in the Kremlin Wall. Numerous old-time radicals and writers—them- selves, not actors—appear throughout Reds and comment on the characters depicted in the film. I thought Sam would enjoy Reds and on the whole he did. ("Who ever thought Hollywood would make such a film?")
The problem was in the details. Sam was nearly deaf at this stage so I had to trundle him up front, where, with his swollen belly, he sat on the edge of his too small seat, leaning forward on his wooden cane, breathing noisily, trying to catch the dialog. He knew personally or was familiar with nearly every character in Reds. This included many of the aged witnesses, who were, after all, his contemporaries. As the film got going, Sam became involved and growled comments on the proceedings, his gravel baritone blasting into the darkness. There followed from the audience, like a Greek Chorus, a call and response session.
Sam, viewing one of the old-timers on screen, blares: "Henry Miller! The man was a bohemian in Paris. He knows nothing about these things."
Response: "Shhh!"
An aged lady I do not remember appears on screen.
Sam: "Her!"
Response: "Quiet!"
The scene shifts to Roger Baldwin, founder of the American Civil Liberties Union:
Sam: "Him I can respect. That's more like it."
Response: An intolerant "HISSS!"
Big Bill Haywood shows up in little more than a bit part for a line or two.
Sam waves his hand in disgust at the actor. "Nothing like him! The man has no stature. Haywood had stature! Haywood had one eye, but he never wore a patch like this fella!"
Response: Shut the fuck up! Call the manager!…
Then, toward the end, there is the touching if slightly absurd montage of the devoted Diane Keaton, in the attempt to reach the dying Beatty, hiking through the Soviet snow in a blizzard. Apparently, she is not allowed to enter Moscow directly.
Sam: "Now that is ridiculous. Those days anyone could get in! The regime was looking for support. Did you know that Bryant married the American Ambassador after Reed died?"
The audience response ends here; instead a flashlight skips through the darkness and two young ushers find us up front. "Sir, we must ask you to leave!"
"Why? What did we do?"
"Come on, it is almost over anyway," I say.
Outside, in the bright sunlight of the parking lot, some of the film's patrons can barely contain spitting at us; seeing an old man in suspenders with white socks showing beneath the cuffs of his pants made them angrier. Their fury was directed at a character that could have walked directly out of the film.
On the way home, in the car, I search for something about which Sam and I can agree: "How did you like the guy who plays Eugene O'Neill?" It was Jack Nicholson, who has an affair with Bryant in the film. I enjoyed his performance.
"No good!"
"No good? I thought he was very good. Why?"
"Too gloomy."
"Well, O'Neill must have been a gloomy guy, right? Look at his plays!"
"But he was not gloomy in that way." Sam insisted, "He was a good fella to have a drink with. He had that Irish wit. He didn't wear his troubles in public like a hair shirt, going around depressing everybody!"
Their paths had intersected in the radical, artistic, bohemian circles of the time. Early on O'Neill had shipped-out—that is, worked as a merchant seaman—and had been a Wobbly, and hung out with anarchists. He was not yet Eugene O'Neill.
Sam's off-hand comment surprised me. "You know that? You knew Eugene O'Neill? You drank with him? Why didn't you tell me?" I felt, while not hurt, put-out.
"Why should I tell you? What earthly difference does it make if I knew Eugene O'Neill?"
I suppose he was right in the scheme of things.
Sam was always pulling surprises like that. He did not think that knowing famous people was important. Sometime later, I mentioned a PBS documentary on Diego Rivera. Sam smiled and said simply, "Diego was a good guy. You couldn't help but like him." They had met several times in the early thirties at radical meeting halls on lower Broadway and at a Union Square diner so infested with Communists it was called The Kremlin.
As I've mentioned, the purpose of my autobiographical, cinematic diversion is to make accessible the richness of Sam's life nearly a century ago. He came to know personally virtually everyone who mattered in the radical movement of his day or he came to know of them intimately through their friends and enemies. Not that he thought his life was rich; it was simply his life.
Order LEFT OF THE LEFT: My Memories of Sam Dolgoff: https://www.akpress.org/left-of-the-left.html