From Oblivion to Political Responsibility: An Anarchist Sister Reviews DEAR SISTER: Letters from Survivors of Sexual Violence
Sara Rahnoma-Galindo from the Institute for Anarchist Studies has written an amazing review of  Dear Sister: Letters from Survivors of Sexual Violence by Lisa Factora-Borchers. It appears in the new issue of Perspectives on Anarchist Theory, an issue devoted to the topic of Anarcha-Feminisms and that is jammed with essays, manifestoes, reviews, personal reflections, and more.
You can get Perspectives

here

.
You can get Dear Sister

here

.
And you can get Sara's powerful review below!
——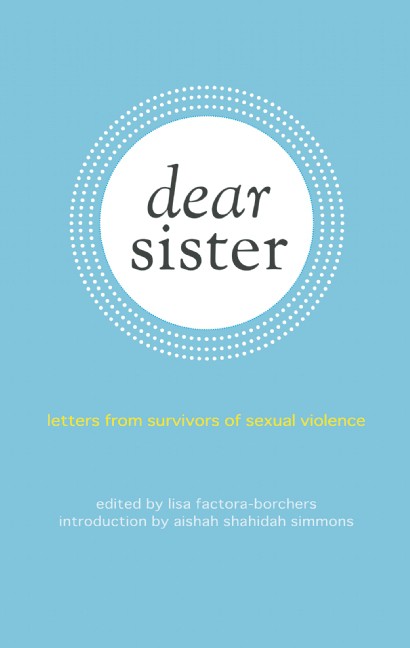 From Oblivion to Political Responsibility: An Anarchist Sister Reviews
Dear Sister: Letters from Survivors of Sexual Violence (AK Press, 2014),
by Sara Rahnoma-Galindo
Radicals, including many anarchists, are involved in actively organizing against gender and sexual violence around the world. For example, Operation Anti-Sexual Harassment/Assault in Egypt; Las Kallejeras in the shantytowns of Santiago, Chile; the Colectiva de Gafas Violetas in Mexico; and countless other local initiatives all confront perpetrators in workplaces and organizing work. Yet, the task of addressing sexual violence, even in anarchist circles, continues to be singled out as primarily the job of survivors and their most immediate circles, instead of as a collective political responsibility. As an issue that we are socialized to meet with silence and stigmatization, sexual violence is commonly underemphasized or obscured amongst both radicals and society at large. Take for instance, ignorance of the fact that one out of three women in the world will be raped at some point in their lives. Or that, in the US, ninety-one percent of reported rape survivors are women, the most vulnerable being queer and gender nonconforming youth and people with physical disabilities, and fifteen percent of children are survivors of rape and incest. It is critical that our politics be aware of and address this. We need to be more diligent and active in both understanding sexual violence and linking it to radical organizing.
Consider reading Dear Sister: Letters from Survivors of Sexual Violence (AK Press, 2014), an anthology containing fifty insightful pieces, written by survivors from all walks of life, as part of this process. The book features an introduction by African-American incest and rape survivor and filmmaker Aishah Shahidah Simmons, and is edited by Philipina-American feminist author and survivor advocate Lisa Factora-Borchers. Known for having extensive involvement with survivors via coalition work, nonprofits, and institutions of higher education before piecing together Dear Sister, Lisa Factora-Borchers was first approached by Black feminist author Alexis Pauline Gumbs who asked her to write a letter of support to a friend who had just been raped. Not knowing the survivor's situation, her name, or much else about her, Lisa Factora-Borchers nevertheless acknowledge the situation and communicated support. Hence the idea for the book was born.
Lisa Factora-Borchers repeats this act of letter writing in Dear Sister, but this time with the assistance of a wealth of direct experiences from dozens of survivors, sharing experiences that have pushed their survival forward. Taken together, these brave narratives, and in particular those from women of color, queer, physically disabled, and working class perspectives, are valuable in and of themselves because they are not readily available elsewhere. I encourage readers to review the biographies at the back of the book to learn more about these amazing survivors.
The book is thematically organized and presented as a collection of traditionally-styled letters, poetry, essays and interviews with the editor. The first section is entitled "What Every Survivor Needs to Know," in which the authors remind readers of the importance of self-value while trying to understand the larger scheme of power disparities. Contributor 'An Ally' opens up with an affirmation, "yes…maybe the whole world is broken…but there is something that is not broken. You can find it" (29). Shanna Katz speaks about survivor resilience and how "the power to re-enter the world as a strong(er), powerful woman" is the survivor herself (34). Renee Martin assures us that things will change for the best, because change is inevitable and survivors will "put this beside you and not behind you" (41). Lisa Factora-Borchers interviews Zoe Flowers, the author of Dirty Laundry: Women of Color Speak Up About Dating and Domestic Violence, who recalls the legacies of patriarchy and colonialism on survivors of color, reiterating that "we have been 'free' for a shorter period of time than we were oppressed" (48). Zoe Flowers's analysis highlights the ongoing impacts of colonialism and patriarchy, which perpetuate both objectification and violence against poor women of color.
"A Child Re-Members," is the name of the second section of the anthology. It takes on child rape and incest, gendered double-standards imposed on minors, and domestic violence against the entire household. Though sporadic and maybe too brief, authors give insight into the complexities of the nuclear family, gender norms instilled at birth, and the need to break out of them for everyone's survival. Juliet November shares that she always understood being a woman meant being prey to someone or something (73), and how heteronormativity designated the female body to a predisposition of abuse and violence (78). Contributor Sarah Cash explains being physically punished and labeled a bad girl, a flawed child, by a relative who "caught her being raped." Working through this experience, many years down the road, Cash learned to love herself as an outcast and in turn learned to love and struggle among society's flawed (61). Mary Zelinka consoles readers about not having a defined path forward, but shares her story encouraging all to always remember that, in one's journey of understanding, the violence incurred during our childhood is the fault of someone who chose to hurt us, and that it's not the survivor's fault (63). This section also includes a short essay by Kathleen Ahern that laments the death of her sister to commercial sexual exploitation as a child (70). [Their/her/his] mention of the early formation of coping mechanisms and the continuation of their repercussions into adulthood is a topic I wish had been formally introduced in the book, since it is randomly mentioned but not bundled for focused thinking.
The third section, "Family Ties," expands the described and reflected upon experiences to include the complexities of the nuclear family in relation to capital, immigration, and incarceration. The stories shared spill outside personal experience to include survivors' larger communities. Authors speak about class; about how poverty is the main reason battered moms and abused children had to stay at home with their perpetrator fathers despite abuse (81); and how survivors had to lie and intervene against social workers and police to avoid being put in foster care, or their family members being put in prison. Activist Mattilda Berstein Sycamore's essay reflects on the need to deconstruct masculinity so that the "brothers" don't fall into patriarchal cycles of violence. She recalls seeing "the way that masculinity created the walls I was trying to escape," and demands our accountability towards unlearning it (84). In a very thorough and beautifully written piece, organizer Amita Y. Swadhin bridges the connection between her survival of incest and that of other people the system had failed, in her case youth of color (101). She highlights how her organizing efforts helped channel rage into youth power and work that could fight "back against all the forms of injustice that had derailed my own youth" (105).  If you take anything away from this anthology it should be this: many survivors have been effective in connecting their own stories of violence and survival to those of other disadvantaged sectors of society.
"From Trauma to Strength," the fourth section, gathers essays in support of self-definition and suggests paths for moving forward. While there is no uniform method, some pieces throughout the anthology mention the need for accountability and a few bring up transformative justice. As I understand it, transformative justice (TJ) propose respecting the survivor's agency. TJ also seeks accountability from those who harm, as well as community accountability and transformation of social conditions that perpetuate violence. Mia Mingus, a queer, physically disabled Korean organizer writes a superb essay to explain how the transformative justice framework "could hold the complexities of intimate and state violence, accountability, and healing and systemic and personal transformation" (140). Mingus explains that TJ is about addressing violence in ways that "don't cause more harm…don't collude with state (prison, police, the criminal legal system, etc.) or systemic (racism, sexism, etc.) violence…[and seek] individual and collective justice" for all those impacted. It would be naïve to think that survivors seek only individual justice, and Mingus speaks of healing as a far-reaching endeavor (145), similarly to what keysha willias and Leah Kashmi Piepza-Samarasinha say when speaking of this healing being counter-intuitive to the capitalist logic of destruction. They proclaim a halt to the self-destructive tendencies of our communities, as we are all interdependent (150). In their eyes, the opposite of destructiveness would be constructing something else, perhaps not Transformative Justice necessarily, but what that is is yet to be defined.
The fifth section is titled "Radical Companionship," in which author Alexis Pauline Gumbs contributes an entertaining free verse piece titled "&," expressing supportive words amidst daily activities, intended not only during high points but also during low ones. Rebecca Wyllie de Echeverria shares the effects of incest and its physical aftershocks that inevitably manifest in survivors' long-term health. She encourages self-care and the shared [nature/condition] of struggle, emphasizing that "surviving is the process of finding new connections each day" (168).
The final section of Dear Sister is titled  "Choose Your Own Adventure." It highlights many different activities and various directions survivors have gone in order to process and deal with the violence that did not kill them. The editor of the impactful book, The Revolution Starts at Home, Leah Lakshmi Piepzna-Samarasinha, gracefully shares her "Healing Mix Tape" music recommendations (188), while sci-fi author and co-editor of Octavia's Brood (IAS/AK Press, 2015), adrienne maree brown, encourages the overriding of shame or guilt to remember that "everything we do to survive is smart." (198) She cheerfully points out that counseling and sci-fi writing helped her a great deal. The final essay in this section is an interview the editor held with the Los Angeles poet Sofia Rose Smith. Together they point to the concepts of trauma with respect to the decision of whether or not to forgive perpetrators, referring back to Transformative Justice principle of humanizing those who have harmed us. In conjunction, they discuss the binaries of survivor and perpetrator, along with the cultural norms of imposing the pace and modes of survivor healing. Whereas the beginning of the book apologizes to survivors and readers for showing no defined path to follow, the contributors focus not on one single way towards healing, restoration or reconciliation, but rather take for granted that they have gathered only a handful among myriad potential paths.
To understand sexual violence, it does not suffice to read about patriarchy, capitalism, or colonialism from a solely theoretical standpoint, even if you think you understand the complicated intersections that have rendered Black, brown, female, gender non-conforming, and queer bodies as disposable and subject to inevitable violence. Just as you would appreciate hearing workers' stories, testimonies about fighting police violence as a young brown person, or about neighbors resisting evictions, you should also be willing to hear survivor narratives like these. Some will say this is way too heavy of a topic for a such a little book, and that it can only be read in little bits at a time. I say the opposite: absorb it all, all at once. Read every single line to become well acquainted with the characteristics of this dominating apparatus. Dear Sister will place your survivor or supporter feet on firmer ground, as we work to build the necessary culture and counter-institutions to walk alongside all survivors.
Sara Rahnoma-Galindo is a survivor of sexual violence, anarchist person of color, office worker, student and board member of the Institute for Anarchist Studies, currently living in Los Angeles.
You can get Perspectives here.
You can get Dear Sister here.