7/18 at 7:30pm: Seth Tobocman (w/ Ted Rall) @ Mac's Backs, Cleveland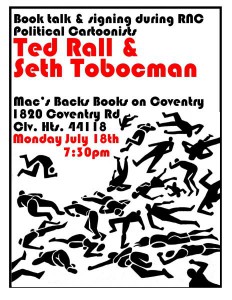 Artist/writers Ted Rall and Seth Tobocman will be at Mac's to sign books during the RNC on Monday, July 18th at 7:30 p.m.
Ted Rall is the author and illustrator of many graphic novels and books of political criticism and travel writing, including the graphic biographies Bernie (about Bernie Sanders),  Snowden and the forthcoming Trump.
Seth Tobocman is an author, artist, and educator living in New York City. Perhaps most well known as the co-founder and editor of the comic journal World War 3 Illustrated, Tobocman's bold graphic style has been immortalized in exhibitions, in the pages of the New York Times, and on the sides of buildings around the globe. He wrote Understanding the Crash about the foreclosure crisis, You Don't Have to Fuck People Over to Survive and the new release Len: A Lawyer in History: A Graphic Biography of Radical Attorney Leonard Weinglass.