8th Annual North American Anarchist Studies Network Conference — Call for Papers
Call for Papers – North American Anarchist Studies Network (NAASN)
[Desplácese hacia abajo para la versión en Español]
The North American Anarchist Studies Network is currently seeking presentations for our eighth  annual conference to be held April 280, 29, and 30 (2017) at the Biblioteca Social Reconstruir (BSR), in Mexico City, México.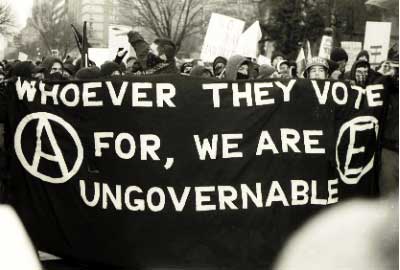 We would appreciate submissions from independent researchers, community activists, street philosophers, students, radical academics, and artists. We invite those engaged in research work within existing institutions, such as colleges and universities, but also those engaged in the production of knowledge beyond establishment walls to share their ongoing work. From the streets to the library, we encourage all those interested in the study or practice of anarchism to submit a proposal.
In keeping with the open and fluid spirit of anarchism, we will not be calling for any specific topics of discussion, but rather are encouraging participants to present on a broad and diverse number of themes:
from the historical, the contemporary, and the utopian. This includes topics of current interest and importance such as the historical and contemporary grassroots struggles, social and peasants movements, decoloniality, racism, anarco-punks,  police violence, torture, "war on terror," technology, as well as biography, historiography, etc.
works that examine issues of indigeneity, ethnicity, gender, sexuality, youth and urban cultures; and scholarship that cross cuts with other disciplines and fields including but not limited to: philosophy, political theory, psychology, musicology, literary studies, anthropology, sociology, geography, ethnic studies, critical indigenous studies, queer and trans studies, women and gender studies, disability studies, graphic design and plastic arts
Submissions for panels, individual papers, workshops, books presentations and alternative format will be gladly accepted. For those who cannot attend in person, we invite to send their proposal videotaped with 20 minutes duration.
We seek to include voices of activists, militants, artists and academics. We also encourage scholars in the hard sciences and other fields who may see anarchism as influencing or relevant to their work to please become involved. We also seek the participation of organizations or collectives more comfortable the community than in the lecture hall.
We are particularly interested in including marginalized voices and perspectives and encourage the breaking down of barriers between disciplines as well as between the academic and non-academic or even anti-academic.
Please spread this call far and wide: it is up to each of us to make this as diverse and complex a discussion as possible.
For further information, examples, and event updates, we invite you to visit our website at www.naasn.org. There, you can find past presentations, visual materials, and ephemera from our previous annual events. We also suggest that you join our email listserv in order to remain updated and involved in on group discussion. Conference proposal submissions (of no more than 300 words) and further questions should be addressed to 8vaconferencianaasn@gmail.com. Include in your proposal a short (150 words) biography. Please respond by December 7, 2017.
———————————————————————-
Convocatoria – Red de Estudios Anarquistas de América del Norte (NAASN)
La Red de Estudios Anarquistas de América del Norte (NAASN, por sus siglas en inglés) convoca a su octava  conferencia anual, a realizarse del 28 al 30 de abril del 2017 en la Biblioteca Social Reconstruir (BSR), en la Ciudad de México, México.
Convocamos a investigadorxs independientes, activistas comunitarixs, filósofxs callejerxs, estudiantes, académicxs radicales y artistas a enviar sus propuestas para esta reunión. Invitamos a todxs quienes participan en la investigación, dentro y fuera de las instituciones existentes, como colegios y universidades, asimismo lxs que generan conocimiento más allá de los muros establecidos, para que compartan sus trabajos. Desde la calle hasta la biblioteca, instamos a toda persona interesada en el estudio o la práctica del anarquismo.
En conformidad con el espíritu abierto y fluido del anarquismo, no estaremos pidiendo temas específicos para discutir, sino que pediremos a lxs partícipes que presenten trabajos sobre diversos temas:
 desde lo histórico, lo contemporáneo y lo utópico. Esto incluye temas de interés e importancia actual tal como las luchas populares históricas y contemporáneas, movimientos sociales y campesinos, descolonización, racismo, Anarco-punks, violencia policiaca, tortura, "guerra contra el terror", tecnología, al igual que biografías, historiografía, etc.
investigaciones que aborden temas de pueblos indígenas, etnicidad, género, sexualidad, culturas juveniles y urbanas; y estudios que atraviesan otras disciplinas, como: filosofía, teoría política, psicología, musicología, estudios literarios, antropología, sociología, geografía, estudios étnicos, estudios críticos de temas indígenas, estudios queer y transgéneros, estudios de género, estudios de la discapacidad, diseño gráfico y artes plásticas, entre otros.
Propuestas para paneles, composiciones individuales, talleres, presentaciones de libros y de formato alternativo se aceptarán con mucho gusto. Para quienes no puedan asistir personalmente, se les invita a enviar su ponencia videograbada con una duración máxima de 20 minutos.
Pretendemos incluir las voces de activistas, militantes, artistas y académicxs. A su vez, instamos a estudiosxs de las ciencias exactas y otras disciplinas quienes pudieran ver en el anarquismo como influencia o relevante a sus labores. También pretendemos que participen organizaciones o colectivos que se sienten más cómodos en la comunidad que en el aula.
En particular nos interesa que se incluyan voces y perspectivas marginalizadas en aras de romper las barreras entre las disciplinas, al igual que las barreras entre la academia y lo no-académico, e inclusive, lo anti-académico.
Favor de difundir esta convocatoria a propixs y extrañxs: nos toca a cada quien que hagamos que estas pláticas sean de la mayor diversidad y complejidad posible.
Para mayor información, ejemplos y actualizaciones del evento, les invitamos a entrar en nuestro sitio de internet en el www.naasn.org. Allí podrán encontrar presentaciones de conferencias previas, materiales visuales, y recuerdos previos eventos. También sugerimos que se unan a nuestra lista de correo electrónico para estar al día e involucrarse en nuestra plática en grupo. El envío de propuestas para la conferencia (que no excedan las 300 palabras) y cualquier duda debe de dirigirse a 8vaconferencianaasn@gmail.com. Favor de incluir en su propuesta una pequeña semblanza (150 palabras). La fecha límite para enviar sus propuestas es el 7 de diciembre de 2016.