As enemies of the state, anarchists are no strangers to prisons and jails. They've been locked up, tortured, and left to die—or murdered—wherever the state has asserted itself. But anarchists are not against carceral institutions simply as a self-defense mechanism, or a preservation reflex. We are against the economic system that manufactures poverty, the school system that teaches ignorance, the political system that fosters cynicism and apathy, and the individualistic, isolating culture that encourages us to blame ourselves when things go wrong. Our institutions are faulty, and administering the prison-industrial-complex (PIC) to "correct" the externalities of a pathological social and economic system is, well, sick.
If we're for an economic system that produces social wealth, a school system that engenders wisdom, a political system of self-governance, and a culture of mutual aid and collective concern, then what need would we have for surveillance, policing, or incarceration? (The worry over crimes of passion or of mental illness shouldn't stop the movement toward an incarceration-free society.) We're for healthy, safe communities and we know what direction to head to get there. The PIC abolition movement shares these goals with anarchists and I'm happy to present this interview with a friend who has been investigating these intersections with commitment, accountability, and active engagement. No armchair radical, Isaac is engaging with these questions by participating in the intellectual and physical movement against the PIC.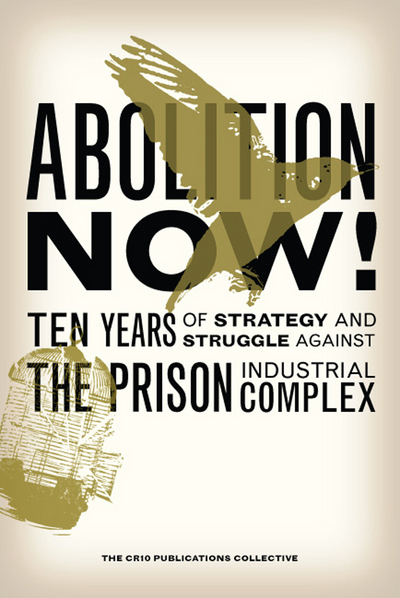 Isaac Ontiveros is a former AK Press collective member. After a few years of slogging it out in the trenches of publishing and distribution he has moved on and now contributes to various Bay Area groups, including Critical Resistance (CR). This week marks the launch of Abolition Now!, co-published by CR and AK Press, at the mighty CR-10 Conference here in Oakland. We'll be there and hope you will be too.
* * *
Isaac, thanks for taking the time to answer these questions for us today. I was hoping we could cover some ground related to your work in the prison abolition movement and its relationship to anarchist politics. You are a contributing editor to Abolition Now!, a just-released book from AK Press and CR, and have contributed to CR's The Abolitionist newspaper. Can you tell us a little about each project?
Abolition Now! is an anthology of writing that takes the ten-year anniversary of CR—the ten-year anniversary of the CR conference back in 1998—as an opportunity to assess the PIC and the struggle to abolish the PIC—to engage with the development of PIC abolitionist politics, to mark where we've been, to conjure with where we are, to figure out how we're going to struggle forward. So, the book deals with a lot of issues and tries to represent a lot of voices—a lot of points of struggle against the PIC, lots of analysis, and hopefully also useful building blocks for the type of world we're struggling toward. So, we have an interesting dialogue with folks who've been in the movement for a long time along with folks who've come to the work more recently; there's work on the changing forms of the so-called "war on drugs"; political prisoner David Gilbert did a piece on war and imperialism; we have contributions that report on struggles against specific points of oppression set in particular geographies; folks from INCITE Women of Color Against Violence revisit the historic CR/INCITE statement from ten years ago and challenge us to keep struggling with the important ideas that came out of that (this is actually one of the pieces I'm most excited about because not only does it challenge the gendered violence of the PIC, but it also asks the question: how do we deal with harm and oppression coming from within our communities, on the day to day, what are our responsibilities there?). The whole thing I think is important because it doesn't take for granted that—like in any liberation struggle—the forces of oppression are changing and responding and adapting. Often in response to resistance to that oppression. In turn then, the nature of the liberation struggle calls for constant revitalization.
(more…)