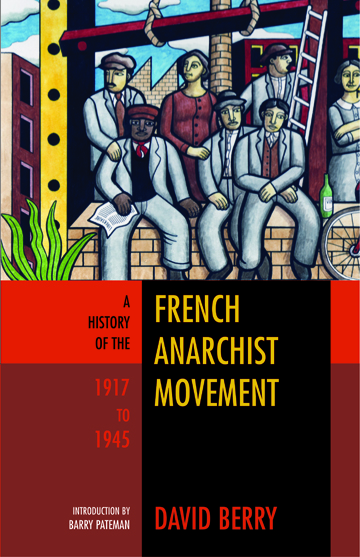 AK Press Collective member, Zach Blue, recently conducted an email interview with David Berry, the author of AK's forthcoming paperback edition of A History of the French Anarchist Movement, 1917–1945. The book will not be available until December, but David is busy with plenty of other projects in the meantime. He is the reviews editor of Anarchist Studies journal and is currently co-organizing the first Anarchist Studies Network conference at Loughborough University (UK), where he teaches French and politics. David has been active on the Left in one form or another for over thirty years, most recently in the local branch of his union. He's also on the editorial board of the Journal of Contemporary European Studies.
* * *
Thanks for taking some time to answer these questions today, David. For starters, could you tell us about the Anarchist Studies Network: what work does it do and what do you hope for it to achieve?
The ASN was basically established, I suppose, to do two things: create and foster links between the growing number of people doing research on anarchism (whether they were students/academics or not); and, building on that, to promote further research in the area and help disseminate the results. A group of us (lecturers and postgraduate research students) in the Politics Department at Loughborough University who were working on various aspects of anarchist history, politics, and theory were keen to raise the profile of research on anarchism—because, without wanting to be paranoid, it's still difficult to get scholarly (i.e. properly researched) work on anarchism taken seriously within the education system in Britain. Some of us belonged to the Political Studies Association, which allows its members to create "Specialist Groups" on all kinds of subjects, so we set up a Specialist Group for the Study of Anarchism, which means that we get a certain amount of funding from the PSA. The name was later changed to ASN. With the help of our more techie members, we've since set up a wiki web site and an e-mail discussion list. There have also been a couple of annual meetings where all the members got together to discuss plans. The PSA funding (which has no strings attached so long as it's used to do what we want to do in any case, i.e. promote the study of anarchism) has allowed us to fund various seminars, workshops, and conferences, and to give financial support to members who needed help to be able to attend these events—not to mention the forthcoming ASN conference in Loughborough this September.
In its succinct definition of anarchist studies, the ASN states "For a number of us, what we are calling 'anarchist studies' no longer necessarily takes anarchism as its object of study but as a standpoint from which to study the world. Anarchist contributions to thought are making a reappearance in a number of fields, challenging established orthodoxies. Perhaps, against all odds, we are witnessing the emergence of a new anarchist paradigm in academia." Can you describe some current examples of how anarchist ideas are informing new approaches to the imposing challenges leveled by capitalism in recent years? And what is the relationship of anarchist studies to the ongoing revolutionary project to achieve anarchy?
(more…)