Win an original piece of art by SETH TOBOCMAN!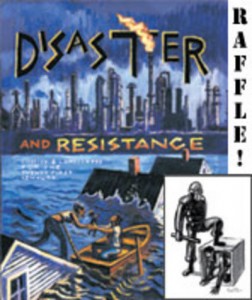 Buy a copy of Seth Tobocman's latest book, DISASTER & RESISTANCE, on the AK Press website any time in August or September and you'll automatically be entered to win one of Seth's original graphite and ink drawings that appear in the book!
(One entry per order.)
The winner will be announced online and by email on October 1.
—-
"For years now Seth Tobocman has been taking on the powers that be for all of us. He's not slowing down either—check out the contents of this volume." —Harvey Pekar, groundbreaking graphic novelist and author of American Splendor series

"I repeatedly tried to get more of Tobocman's work onto our pages, but it was deemed too radical. Tobocman won't compromise his principles for money or fashion." —Jerelle Kraus, former art director at the New York Times

"A graphic revelation, an artistic and political document of enormous value in our troubled world." —Paul Buhle, esteemed historian of American radicalism